UNIMAK'S MOVE FOR DECUPLE GROWTH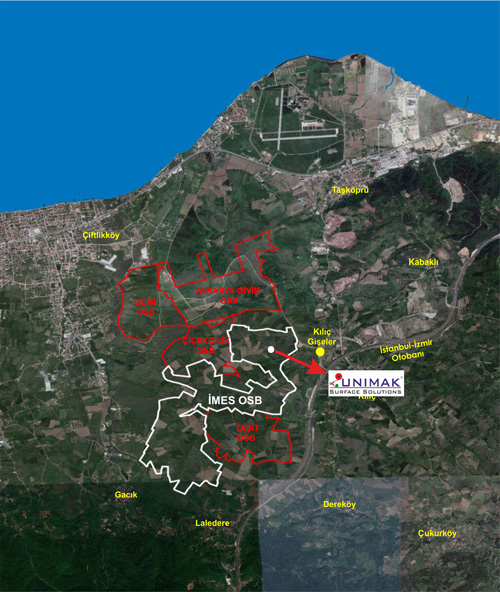 Yalova Imes OIZ, which was established first as cooperative in 2015, has turned into an organized industrial zone by reaching sufficient number of members in the following years. In Yalova Imes OIZ, which will be the biggest and most modern Machine Specialized Organized Industrial Zone of Türkiye, UNIMAK by purchasing 40.000 m² factory land started the investment move which will grow itself decuple.
UNIMAK, manufactures machinery, equipment and facilities demanded by the market under high technology and quality standards in the sectors it serves, in its manufacturing facility in Tuzla Kimyacılar OSB, has 4.000m² closed area. Today investment decision is taken by foreseeing 10 years from now with presale and after-sale services, storage spaces and development of production-planning rate brought by exporting over 70 countries to be better than today and to continue providing best service for our valued customers. UNIMAK is in continuous growth trend with undertaken mission and vision it has. In this context it continuously invests to satisfy the needs of capacity. Therefore to make investment for new facility considering the future it has purchased 40.000 m² industrial estate at Imes Yalova Specialized Organized Industrial Zone.
As a result, it is in a continuous growth trend. In this context, it continuously invests to meet the capacity requirement. Therefore, considering the future and also realize the new factory investment UNIMAK has purchased 40,000 m² of industrial land from Imes Yalova Specialized Organized Industrial Zone. In spring of 2021, after receiving the zone when its infrastructure is completed, UNIMAK will construct for 30,000 m² indoor area. Thus, it will have contributed significantly to the 2023 goals of our country and created added value.
As of August 2019 infrastructure works of Yalova Imes OIZ have started, in the first months of 2020 industrial estates will be handed over to investors to start their facility construction, with all infrastructure completed. UNIMAK will build a 30.000 m² closed area on the facility area it purchased and exact location determined last week in OIZ. So it will be the biggest and most modern facility of Woodworking Machinery industry in our country and in the world of its industry.
With the completion of this investment UNIMAK will create a resource for enhancing employment opportunities for our country by developing 400 additional employment and business opportunity. And also it will manufacture products with high added value. It will increase its contribution to national economy by increasing its export figure. Thus, it will have major contributions to our country's 2023 goals in its field.
As Dear Ahmet SOYLEMEZ CEO of AGT, Advanced Technology in Wood Industry, one of major industrial enterprise of our country (sending our regards to him), says;
"Our roots in this land, our branches spread the world.